Designated Learning Institutions (DLIs) are educational establishments that have received approval and authorization from the provinces and territories of Canada to provide instruction to international students. They include primary, secondary, and post-secondary (universities, colleges, and special institutions) schools in Canada that have the legal permission and backing of the government to accept international students through an offer of admission. The list of designated learning institutions (DLI) that have been approved is currently being updated by Immigration, Refugees, and Citizenship Canada (IRCC), the immigration department of Canada.
Every primary and secondary school in Canada has been designated and granted permission to accept international students. However, in order for postsecondary institutions to accept international students, the provincial or territorial government must first grant permission. A letter of acceptance from a DLI is required in order to enroll in postsecondary education in Canada. In order to obtain a Canadian study permit, this letter is essential.
When choosing a DLI to study at, international students should also do all the necessary research. You don't want to choose a school that will prevent you from getting a post-graduation work permit. Your school must be included on Canada's list of designated learning institutions. However, you can continue attending the school until the end of your Canada study permit if it loses accreditation. If not, you can transfer to another DLI-status school.
List of 97 VERIFIED Universities in Canada
The list below lets you know if your school offers programs that will make you qualify for a post-graduation work permit.
What is the designated learning institution number?
Every post-secondary schools that admit foreign students in Canada have a DLI number. A DLI number is a unique code or number that's associated with the school. The DLI number can be found on the Canada study permit application form. It is the number that starts with the letter "O".
If you want to study in Canada as an international student, you must first make sure that your school is on the list of Designated Learning Institutions (DLIs).
Also, bear in mind that there are schools with several campuses or smaller departments that may have a different DLI number for each location.
How to Change a Canadian DLI Number?
As an international student studying in Canada, you are allowed to change your DLI number anytime. You may change the level of study, institution of study, and/or program of study. You do not need a representative to change your DLI number. You can always do this yourself if you have your study permit application details intact. However, before initiating this process, you may need to notify the appropriate immigration department in charge of this.
Basically, you need the following documents to change your DLI number:
a valid online account linked to your application.
your study permit number.
your new school's designated learning institution (DLI) number.
your new Student Identification Number (i.e Student ID).
your start date at your new school.
7 Steps to change your DLI Number
An international student with valid study permit and with the necessary documents may change or switch from one school (DLI) to another as an international student in Canada. Eligible students may follow these steps to change their DLI number online:
Step 1: Sign in to your online CIC account.
Step 2: Find the section Designated Learning Institution Student Transfer and click on Transfer from DLI number.
Step 3: Enter your study permit application number and click Search for my application.
Step 4: Insert more information about your original study permit application.
Step 5: Insert your new DLI number, your new Student ID number, and your start date at your new institution. Then Click Submit transfer.
Step 6: Confirm the details of your transfer. If all the information is correct, click on Confirm Transfer.
Step 7: You will receive a notification that your transfer is complete. This shows that you have notified IRCC of your intention to change DLIs.
Changing Schools in Canada
As a foreign student, you are permitted to change your institution of study. You do not need to obtain a new study permit to effect this change. However, if you wish to change school within the same level of study, then you are required to contact Immigration, Refugees, and Citizenship Canada (IRCC) and notify them of the change in institutions. And you must ensure that your new school is accredited to host international students.
Transferring from one DLI another is easy, provided the student have a valid study permit and acceptance letter from the new school they are changing to. See steps.
Furthermore, if you wish to transfer from a school outside of the province of Quebec to a school inside of the province of Quebec, you will have to obtain a certificat d'acceptation du Québec (CAQ) before you can transfer. This is because Quebec has unique requirements for accepting international students.
Popular Questions About Designated Learning Institutions
How to check if a Canadian School is COVID-19 ready
International students are cautioned that they can't come to Canada before their school is added to the IRCC list of approved schools.
"If your institution isn't included below, you can not come to Canada to study at this time. If you try to come to Canada when your institution isn't included, you will not be allowed to board your flight at the port of entry."
A total of 1, 548 DLIs are listed on the official IRCC website, across all Canadian provinces across the country except Nunavut. Each of these Learning institutions must be individually assessed before they are listed as 'approved' on the official IRCC website. Canada immigration ministry regularly updates its list of designated learning institutions regularly as more and more post-secondary institutions have their coronavirus readiness plans approved by their respective provincial or territorial governments.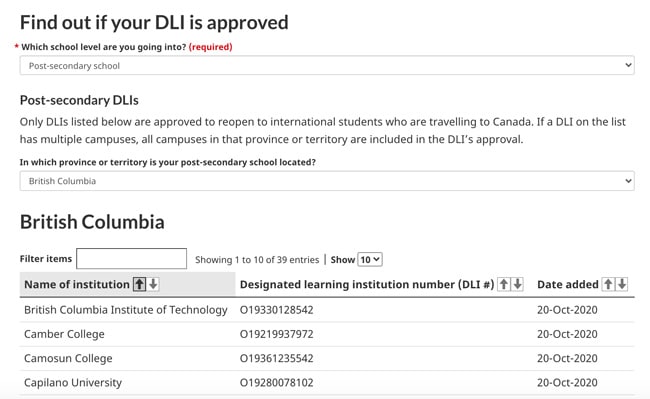 As of November 17, 427 out of 436 institutions in Quebec have had their coronavirus readiness plans approved. On the other hand, out of the 482 learning institutions in Ontario, only fifty-six (56) have had their plans approved. In British Columbia, eighty-one (81) out of 266 DLIs have approved plans. While there are plans pending federal government approval, certain Canadian universities may not have lodged their COVID-19 readiness plans for approval yet.